LOCATION

AND TRANSPORT ACCESSIBILITY

Krosno is located in the southern part of the Sub-Carpathian Voivodeship region. The National road no. 28 bisects the town and the National road no. 19 traverses some 5 kilometers on the outskirts of the town. Within the perspective of 2025, the expressway S-19 is to be built in close proximity to Krosno and will form a significant part of the "Via Carpathia" trans-European transport corridor, leading from Lithuania to Greece along the eastern border of the European Union. Access to this expressway would mean for Krosno a faster and more convenient connection with Rzeszów, the Voivodeship's regional administration headquarters, and also with the rest of the country.
There is a local airfield in Krosno, equipped with a modern asphalt and concrete runway, which is 1100 long and 30 m wide and features a lighting system to facilitate aircraft landing during hours of low light or darkness. The infrastructure facilities are designed to perform flight operations for aircraft with a wingspan of 24 meters, which can carry up to 45 passengers on board, such aircraft being, for example, the  ATR -42, Cessna Citation Jet M2, Cessna Caravan, Saab 340, Beechcraft King Air C-90 and AN-28. One of the airfield's primary functions is to provide a service for business flights and air taxis.
The nearest international airports:
Rzeszów – Jasionka – 75 km,
Kraków – Balice – 180 km,
Katowice – Pyrzowice – 289 km,
Warsaw Chopin Airport – 350 km.
Krosno also accommodates the national Railway line no. 108, Stróże to Krościenko (state border line) which passes through the town.
The prime location of Krosno near the borders of Slovakia and the Ukraine is an obvious advantage, providing business people an easy access to suppliers, customers and employees from neighbouring countries.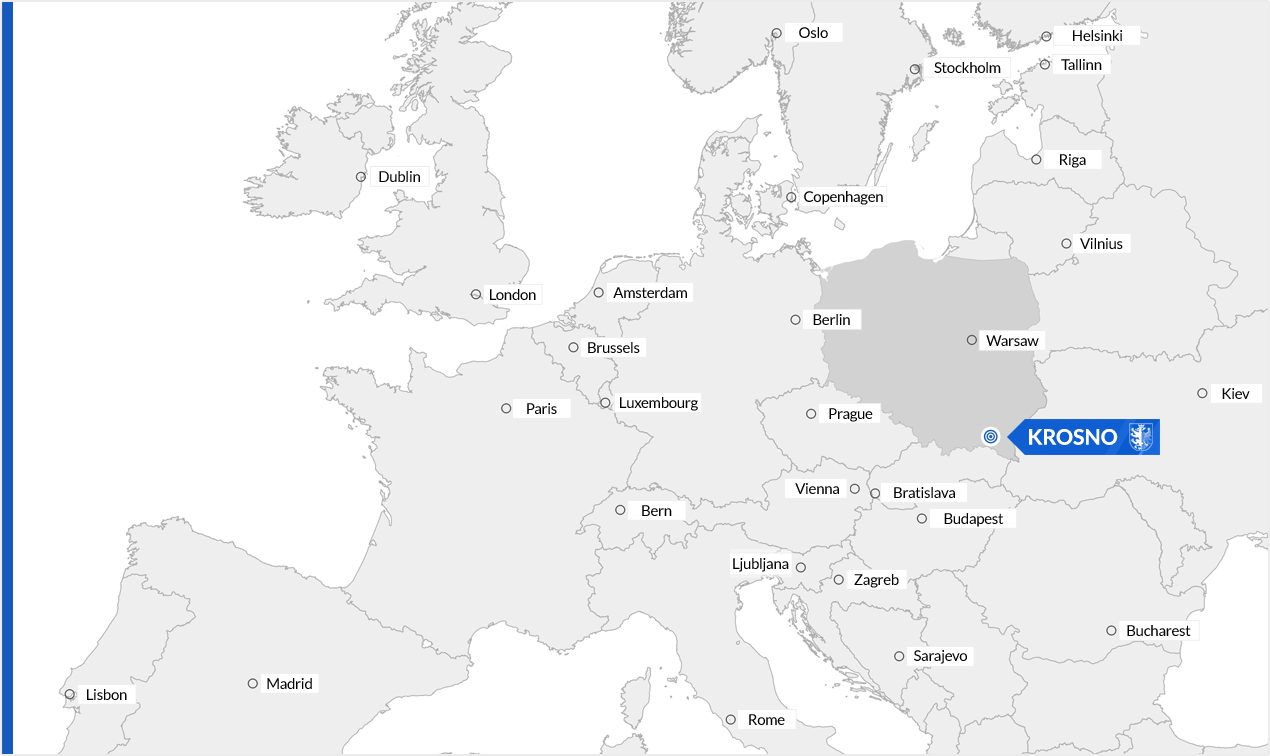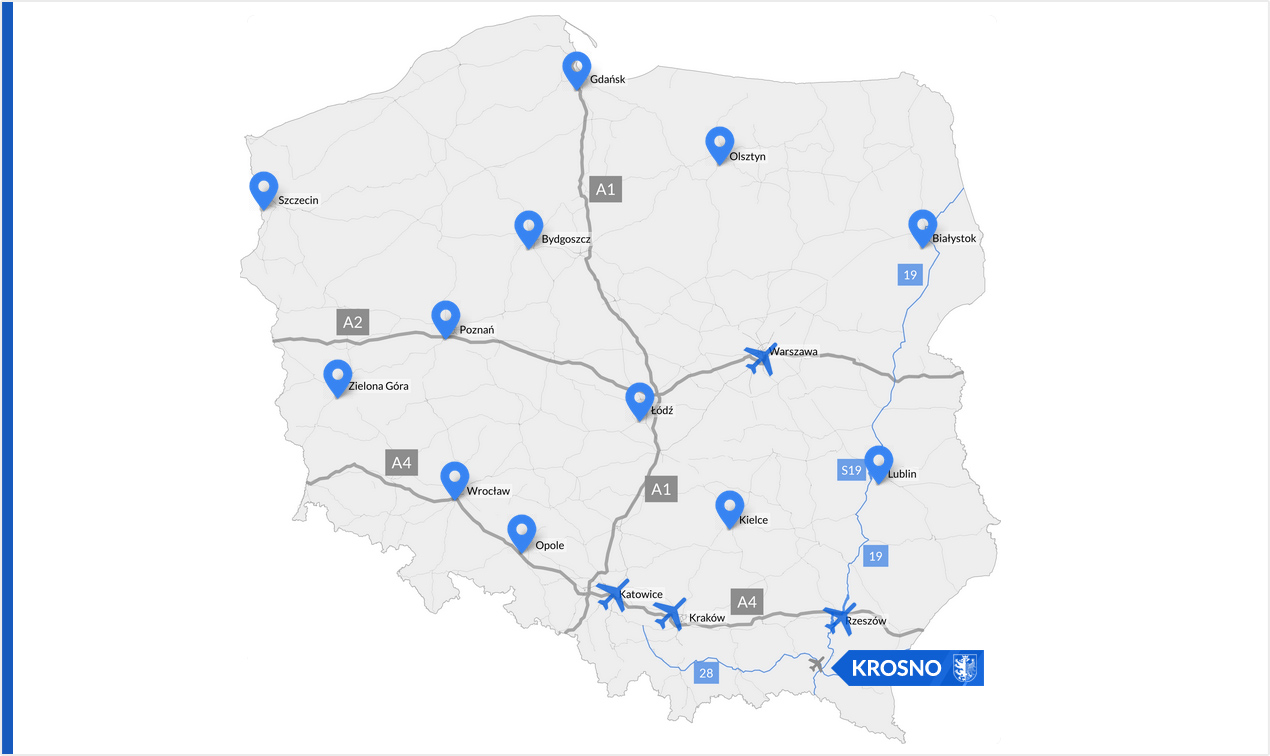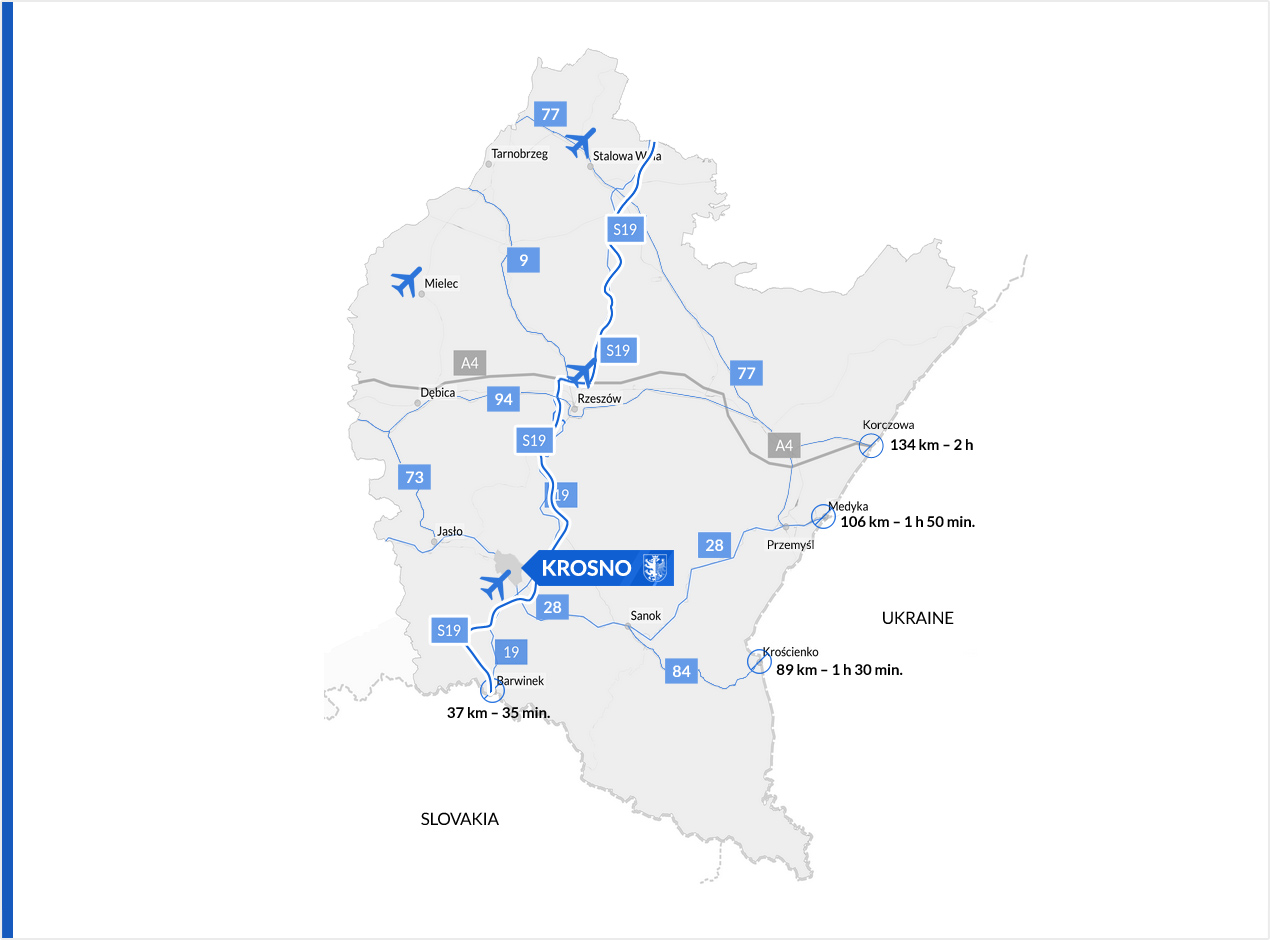 last updated: 20.11.2018

Municipal Office of Krosno

ul. Lwowska 28 A
38-400 Krosno